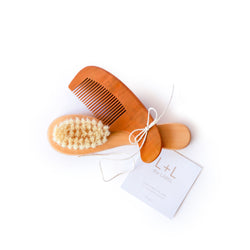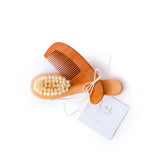 Lion + Lamb Baby Brush Set
Lion + Lamb The Label Hair Brush & Comb Set is super soft. Perfect for baby's delicate crown. Both the brush and comb have curved, wooden handles for easy and comfortable grip. 
This set is a precious keepsake and makes an ideal practical gift for a newborn baby.
/Non toxic finishes
/Made with natural wood and Goat's hair bristles
/Environmentally friendly 
MEASUREMENTS- Approximately 10cms each