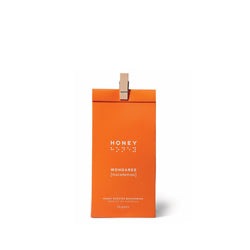 Wondaree Macadamia's 50g - Honey
 This hits the sweet spot — roasted in honey, the nuts emerge as golden chunks of colour with familiar Queensland flavours and a sweet oven crunch.  
Colourful and vibrant, these packs are perfect presents and designed to be accessible for the visually impaired. Sealed with a peg, these are the perfect Australian gift.
Grown in the Northern Queensland Atherton Tableland on Greg and Wendy's Australian owned and run farm, these premium macadamias are artfully and thoughtfully packaged.