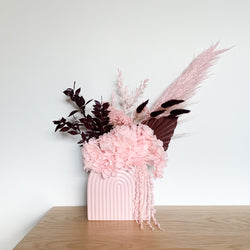 Kindful Gifts
Over The Rainbow
There's no such thing as too much pink when it comes to this fun-loving arrangement. Brighten their day (for days on end) with the Over The Rainbow arrangement.
- - - 
Our floral arrangements are carefully and lovingly made by hand using 100% real dried flowers. Each arrangement may vary slightly from the photo as flowers are a natural product and occasionally a type of flower becomes unavailable. Vase/Pot included. 
All dried floral arrangements are currently only available for delivery within Metro Melbourne. Depending on location, delivery will cost an additional $10-$15.
Blooms can last for 7+ years. 
Place Order
Email us to place an order